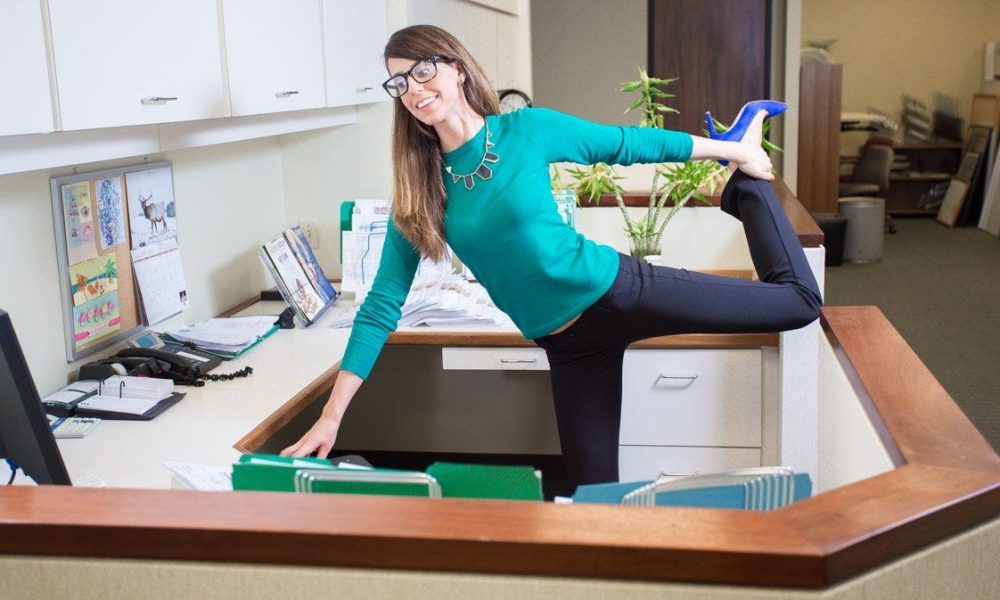 Too much sitting is bad for your health. Finding time to do exercise can be a challenge. Why not exercise while you work? Here are some different ways to add physical activity to workday routine.
Work out during lunch
If you cannot work out after or before work, lunchtime is perfect for a little exercise. If there is a gym at your office, you have got a lot of exercise options. If not, you may go for a speed walk or a half-hour run around your neighborhood. Yet, don't skip lunch, because your body needs to be refueled.
Replace your chair with a stability ball
It sounds some weird, but stability ball could be a great office exercise equipment. Stability ball helps you practice better posture. Your body constantly tries to balance itself on it. Sitting on a stability ball can strengthen your abdominal muscles. Basically, every time you sit down you are getting a low intensity abdominal workout.
Take short "active breaks" throughout the workday
On busy workdays, you can work out in short breaks by standing up, stretching the legs, and walking around. Taking short breaks will help you burn off extra calories and help you concentrate during you are working. Experts mention that people who take walking breaks during working feel less tense and more enthusiastic.
Pace while you are on the phone
You spend most of your workday sitting down. You can stand up and move around while you are on the phone call, if you do not need to be on your computer at the same time. Physical activity does not have to be formal workout to have its benefits. Even simple activities can burn some calories and this is good for your muscles. Additionally this movement helps keep you alert and focused.
Speed up while running your errands
Try speed up your errands. This is the easiest way to make movement natural part of your day. This means having lots of errands to run will not cause you to miss a workout.
Go the long way
When you have got a few moments to spare, you could take the long way. For example, instead of the elevator, you could take the stairs, instead of right by your desk, you could go to restroom across the building or you could park farther away from your workplace.
Work out with colleagues
You are not the only one at the office trying to fit workout into a busy day. Why don't you seek out your colleagues who want to exercise with you and start some kind of sport or fitness club?
Stretch at regular intervals
There are lots of stretches you can do either standing up or sitting down that could help ward off stiffness and pain while boosting your alertness and energy. You could do some stretches at regular intervals throughout the workday. There are several office stretching exercise methods such as leg extensions, torso twists, circling wrists and hands in air circles, standing up and sitting down many times without using hands, shrugging shoulders to release tension in neck and shoulders.